SEOAnt is a customized application for simple SEO checks on Shopify dropshipping stores and other eCommerce websites.
SEOAnt serves as a guide to help dropshipping stores rank higher in search engines and get consistent free traffic.
It incorporates sales page loading speed as one of its important features too.
The Key Features of SEOAnt Optimizer.
The following features make SEOAnt a complete tool to perform SEO checks on a website :
Provision of a detailed SEO report.

On-page SEO Scan.

Google search console-site report.

Bulk edit alt text.

Quick type tag: This makes it possible to quickly edit alt text for images.

Bulk edit meta elements feature.

SEO Meta Element Auto Template

Broken Links Management-Automatic detection of broken links

Structured data.

JSON-LD settings.

Automatic detection of duplicate meta-element problems.Full
description of Key Features
Detailed SEO Inspection Report
SEOAnt makes use of advanced technology to execute SEO checks for your Shopify dropshipping website; this gives a precise SEO score for your store. The SEOAnt tool then shows the store owner the part of the store that should be optimized. This tool makes SEO optimization for websites and stores easy.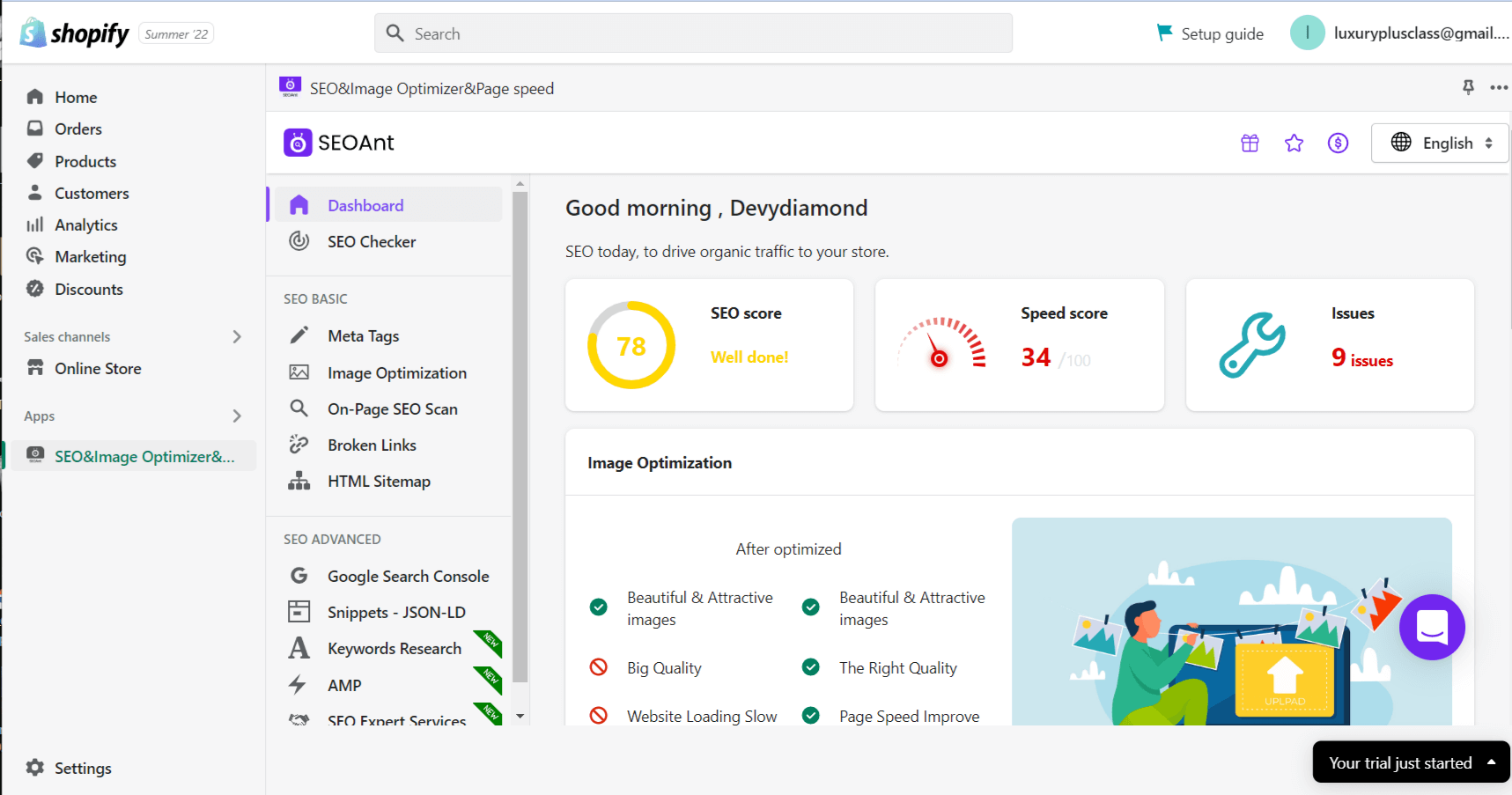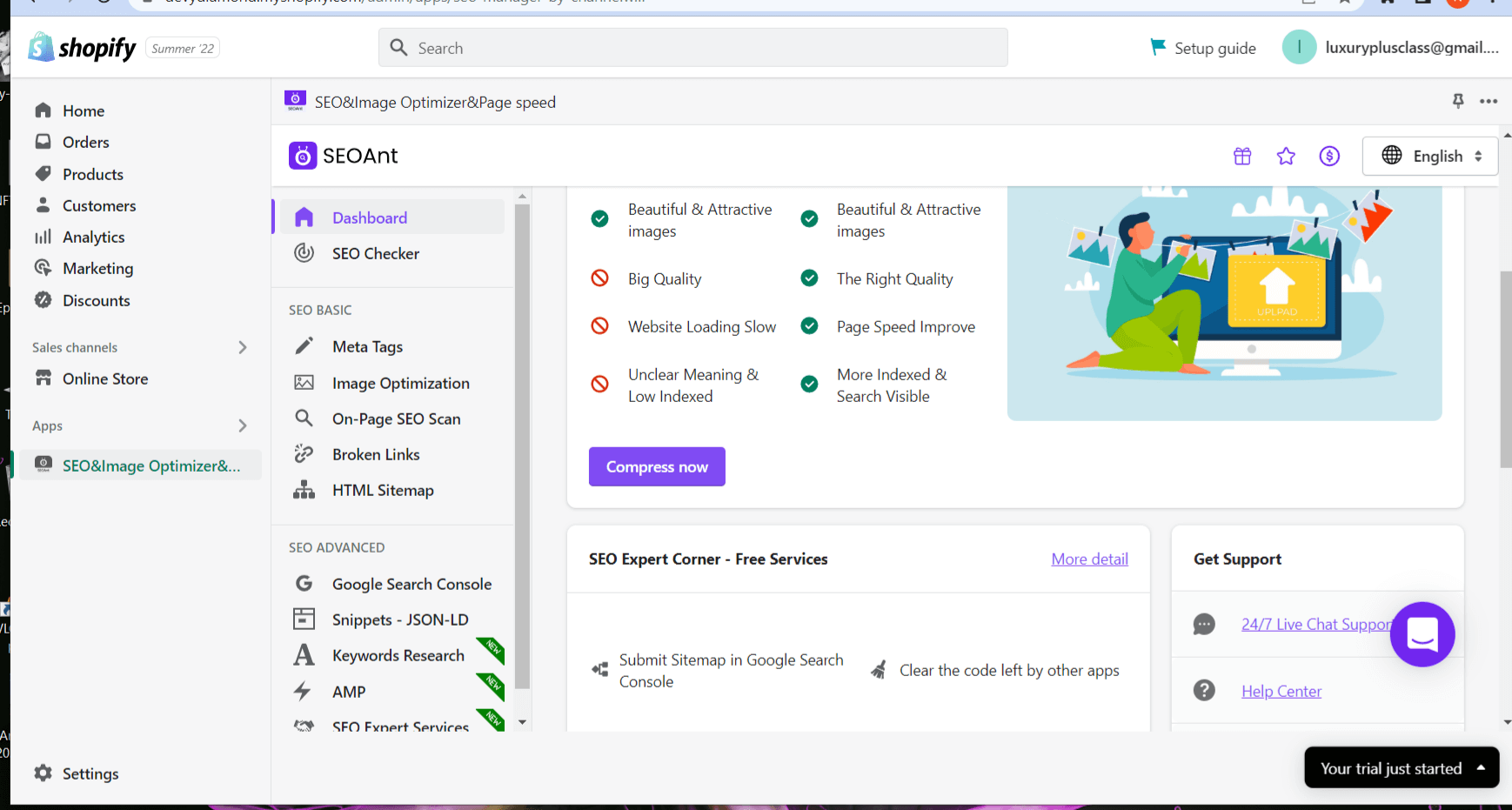 On-Page SEO Scan
This feature of SEOAnt makes it possible for Google to understand what the page is all about. The site owner can improve on-page SEO in this way; this ensures higher rankings on search engines like Google and increases traffic to the store even without ads.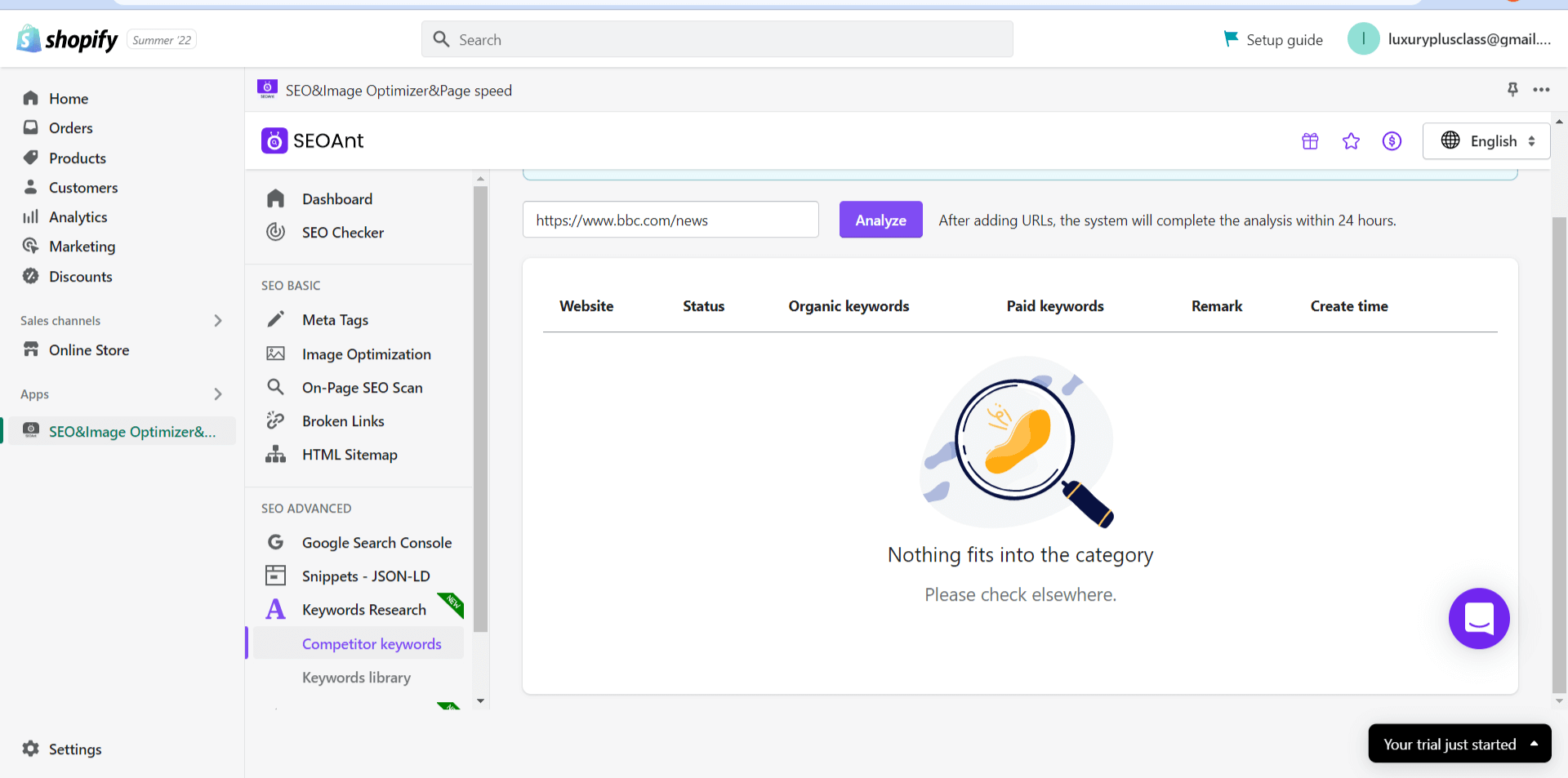 Bulk edit alt text and meta elements.
SEOAnt makes it possible for store owners and website owners to edit the website's image, alt text, title tag, and meta description all at once within a single page. As a plus, images' alt text and meta elements can be edited in batches using just a few clicks. This function makes this task easier; Google and other users can thereby easily identify what the website is all about.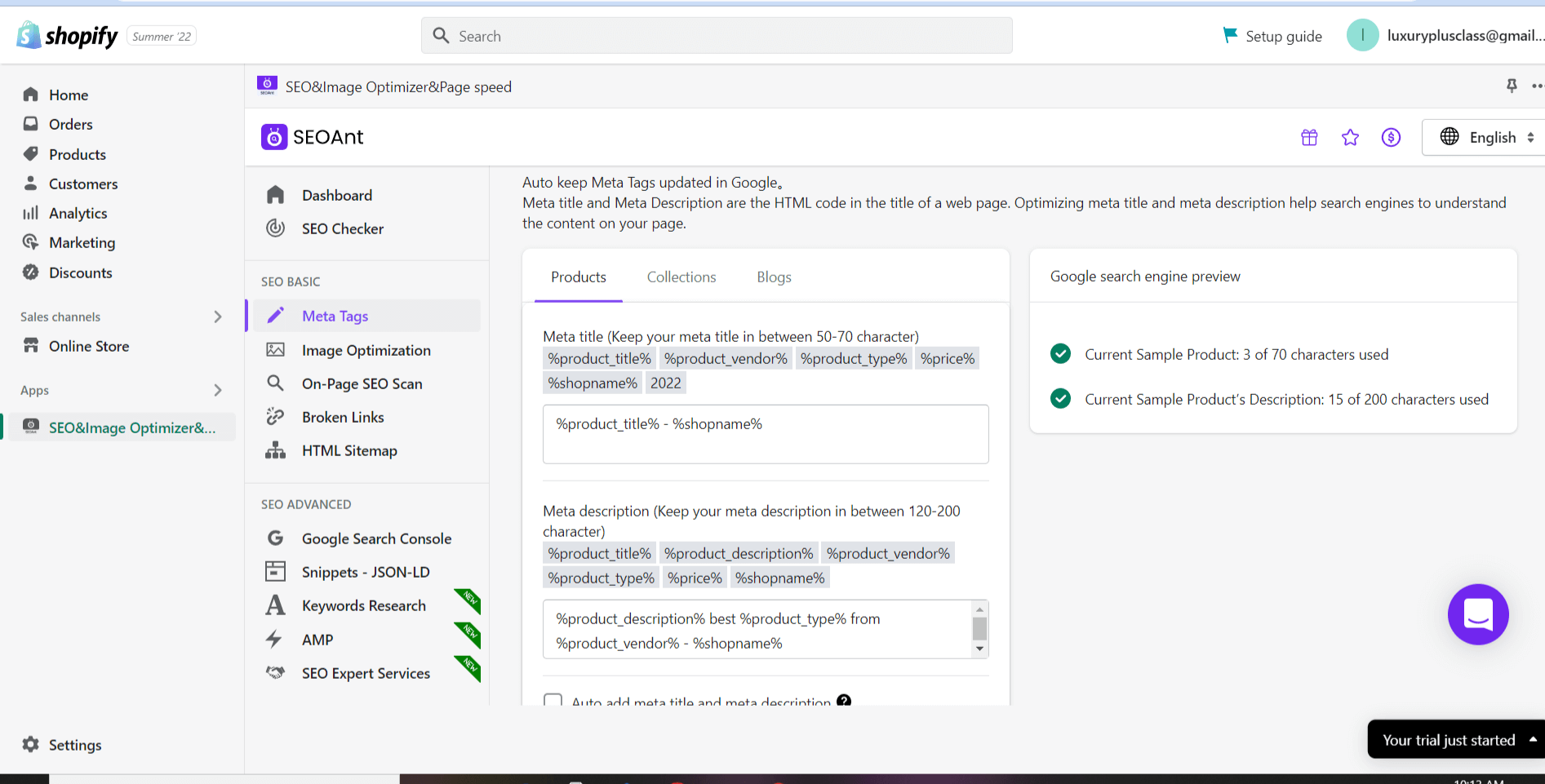 SEO Meta Element Auto Template
This feature of the SEO Tool makes it possible to set a custom template for image alt text, title tags, and meta descriptions and sync them across all important pages. This saves time rather than editing the meta elements one after the other.
Broken Link Management.
404-page errors are common with bulky websites and stores; this can hurt the store's rankings and user experience. SEOAnt makes it possible to track and fix 404 error pages and links on a website. This makes the website run smoothly, and traffic will not be lost from the website.
Partner applications and integrations
The SEOAnt application works well with this set of applications/software to bring about a website or store that ranks highly on Google and also enhances the customer experience. -
Broken Links Master 404 Redirect
This is a third-party application that works with SEOAnt to auto-detect 404 errors automatically and in real-time. It tracks the URL of your Shopify domain before it causes the error. It gives a daily report to easily keep track of. It helps the store owner by suggesting the target URL from their site to redirect when fixing a 404 error; this saves time from going back and manually copying the URL. It provides One-click and Auto Bulk pilot Fix. It saves time and effort when increasing sales have to be coped with. It complies with Google search best practices.
SEO image compression
Research has shown that 5 out of 10 online shoppers want your website to load in 2 seconds. Your Shopify store's conversion rate will increase by an average of 5% for every second shortened in page loading time. Packing too many high-quality images on your Shopify store is one of the reasons a slowdown may occur. Optimizing the page speed increases the page speed by 30–40%.
The image SEO tool works with SEOArt to bring the best user experience to your Shopify store. It performs the following functions: -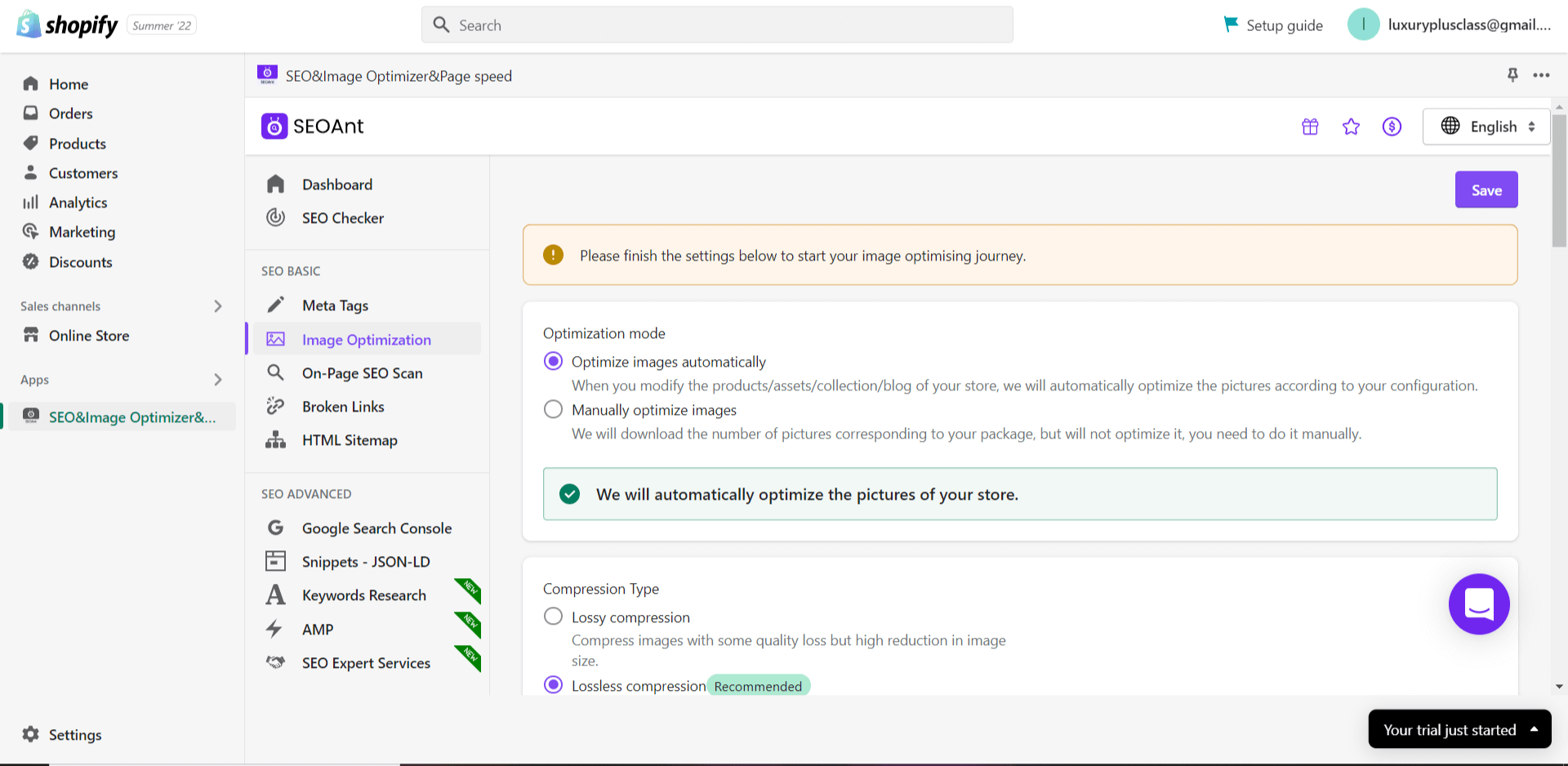 Automatically Optimize Image SEO:
This SEO tool auto-syncs new product images, collection images, blog post images, and asset images. Within auto optimizing those new images according to the settings at the same time.

Full, advanced optimization. The app allows you to do Image compression, edit alt text, edit filename & convert PNG to JPG and add a watermark.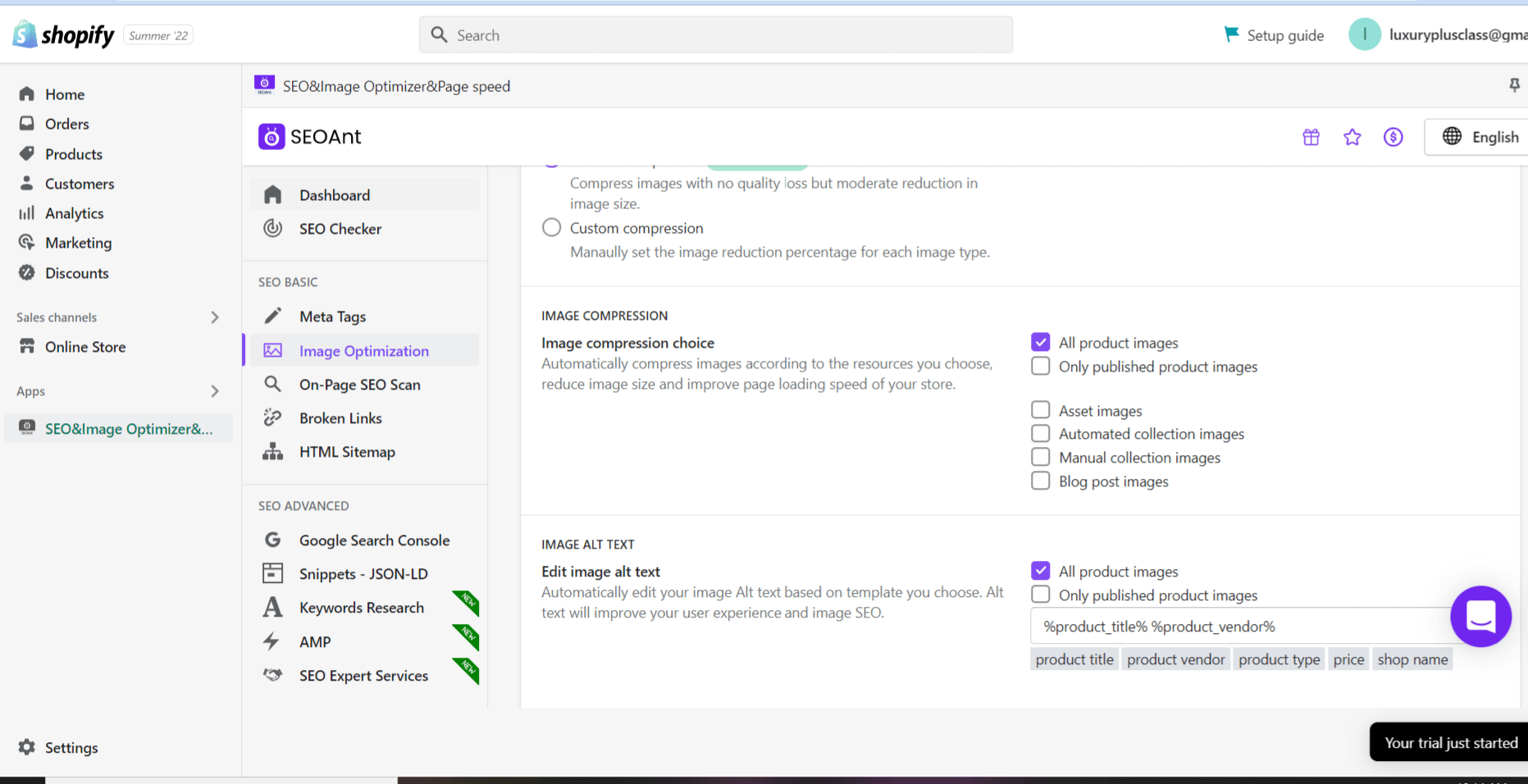 -One-Click Manual Optimisation
Check the new images and optimize them manually after each change. Click the button to start the work. It would auto work also according to the Automatic settings.-
-Image Compression:
Users can set a customized compression type.
lossless mode: This reduces Image size by 15%.
Lossy type: reduces image size by 25%
Custom: The user is allowed to set a preferred percentage.
-Image ALT tags: This makes your site/store more accessible.•
Alternative text (alt text, alt tags ) can help improve your website's SEO performance and help Google better understand the contents of an image. It aids access for people who can't see images on the website pages, including users who use screen readers or have low-bandwidth connections.
- Watermark:-
This serves to protect and strengthen the website owner's brand.

This makes it possible for product owners to protect photos from image thieves. Customize the watermark in any way you want. Restore images before you change the watermark position or something.
SEO Image optimizer-Page Speed
Research has shown that 5 out of 10 online shoppers prefer a website to be loaded in 2 seconds. Your Shopify store's conversion rate will increase by an average of 5% for every second shortened in page loading time. Packing too many high-quality images on your Shopify store is one of the reasons a slowdown may occur. Optimizing the page speed increases the page speed by 30–40%.
Frequently Asked Questions (FAQs) about SEOAnt
What is Search Engine Optimization?
Numerous store owners are mostly involved in trading and only come to realize later that SEO is important for their store ranking. Organic SEO
is a technique that allows websites to rank highly in search engines, thereby increasing organic traffic. Search engines like Google and Bing make use of algorithms that determine how well a website will rank. The SEO factors used by these search engines include on-page and off-page factors.
The on-page factors include :
Technical issue: This includes factors such as code quality.
Textual issue: This includes factors such as site structure; text and word usage.
The off-page factors include :
Link from other websites.

Social media attention.

Marketing activities outside your website; one-click installations on eCommerce websites.

On-page SEO Scan for 20 products feature.

Image compression for up to 50 images feature.

Automatic scanning for broken Links.

SEO content checker feature.

SEO Keyword suggestion Tool feature.

Bulk edit Image alt feature.
Pro plan.
This plan is available for $21.99/month billed at $263.88 per year. This subscription plan is characterized by :
All the features for the free plan.

On-page SEO Scan for 1000 products.

Image compress and auto 200 images.

JSON-LD

Google search console feature.

Bulk edit meta Tags feature.
Premium Plan
All the features of the PRO plan.

AMP for faster mobile pages

Competitor websites keyword analyzer.• Keyword ranking monitoring feature.
Conclusion
SEOAnt is a tool built to assist online store owners to get enough organic traffic and grow their business.
SEOAnt/SEOMaster is an automated all-in-one SEO tool that provides features like on-page SEO Scan, automated Broken Link Management, structured data implementation, and site orders to improve search engine optimization.
On-page optimization will help identify SEO issues and fix them; it makes Google understand pages much better:-
-Improve online visibility
-Increase organic traffic
-Top ranking on Google
Meta title, meta description, image, and alt. text are essential to SEO which is controlled all at a time by a Bulk editor. In just a few clicks changes can be applied to all the pages which make it easier to edit and save a lot of time. 404 and 301 error fixing helps to maintain search ranking and retain website traffic. If you're in a physical store; SEO master implements JSON-LD Scan to improve SERP; higher CTR and better conversion rate.
It incorporates powerful site audit tools that help to monitor website health and fix them accordingly.